Skip to main content
It looks like you're using Internet Explorer 11 or older. This website works best with modern browsers such as the latest versions of Chrome, Firefox, Safari, and Edge. If you continue with this browser, you may see unexpected results.
Asexuality: a Brief Introduction

by

Call Number: ebook

This book provides a comprehensive overview of asexuality by sharing personal narratives, debunking myths and misconceptions, outlining signs that a reader might be asexual, and offering a personal take on a myriad of topics. This brief introduction is a fantastic primer on asexuality, and is a great resource to share with friends and family.

Is It a Choice?

by

Call Number: Craiglockhart Main stock 306.76 MAR

In this newly revised and updated edition, Eric Marcus provides insightful, no-nonsense answers to hundreds of the most commonly asked questions about homosexuality. Offering frank insight on everything you've always wanted-and needed-to know about same-gender relationships, coming out, family roles, politics, and much more.

It Gets Better: Coming Out, Overcoming Bullying, and Creating a Life Worth Living

by

Call Number: Merchiston Main stock 306.7660835 SAV

Growing up isn't easy. Many young people face daily tormenting and bullying, and this is especially true for LGBT kids and teens. It Gets Better is a collection of original essays and expanded testimonials written to teens from celebrities, political leaders, and everyday people, because while many LGBT teens can't see a positive future for themselves, we can.

Overcoming Relationship Problems

by

Call Number: Merchiston Main stock 306.7

In this highly effective self-help guide, internationally respected couples therapist, Dr Michael Crowe, uses proven therapeutic strategies derived from family therapy to help you to overcome your relationship problems. Including advice on; sustaining a long-term relationship, improving communication with your partner and family, dealing with sexual problems, developing negotiating skills, and coping with jealousy and other negative emotions.

Sexual health for transgender and gender non-conforming people

by

Call Number: ebook

Publication Date: 2013

This guide is about the sexual health of transgender and gender non-conforming people. It aims to tell you about your body and what you can do with it, how to have safe and enjoyable sex, the risks of sex and how to negotiate them.

This Book is Gay

by

Call Number: ebook

Former PSHCE teacher and acclaimed YA author Juno Dawson gives an uncensored look at what it's like to grow up as LGBT. Including testimonials from people across the gender and sexual spectrums, this frank, funny, fully inclusive book explores everything anyone who ever dared to wonder wants to know - from sex to politics, how to pull, stereotypes, how to come-out and more. Spike Gerrell's hilarious illustrations combined with funny and factual text make this a must-read.

Sexuality

by

Call Number: Sighthill Main stock 306.7 BAR

Writer Meg-John Barker and artist Jules Scheele once again team up in this cheeky and informative comic-book follow-up to Queerand Gender. Sex is everywhere. It's in the stories we love - and the stories we fear. It defines who we are and our place in society ... at least we're told it oughtto. Sex and sexuality can seem like a house of horrors, full of monsters and potential pitfalls. We often live with fear, shame and frustration when it comes to our own sexuality, and with judgement when it comes to others'. Sex advice manuals, debates over sex work and stories of sexual "dysfunction" only add to our anxiety. With compassion, humour, erudition and a touch of the erotic, Meg-John Barker and Jules Scheele shine a light through the darkness and unmask the monsters.
Coming Out Simulator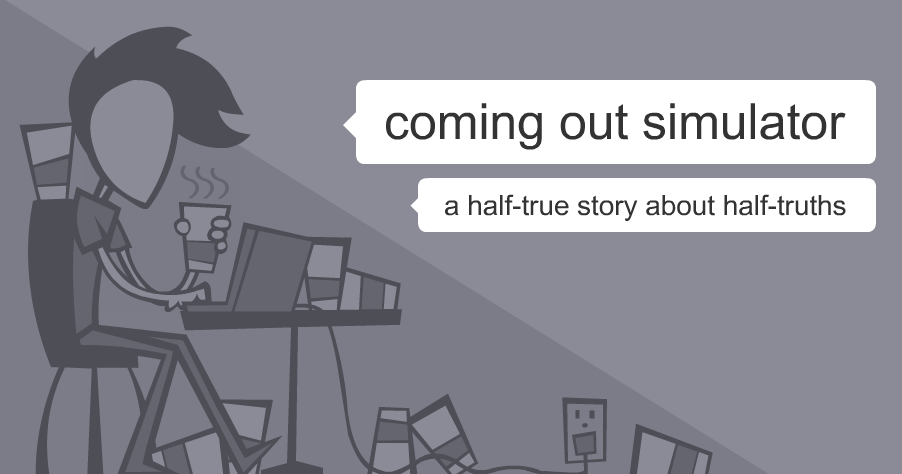 19-year-old game developer Nicky Case takes another crack at some of the hardest conversations he's ever had. The Coming Out Simulator tells a fictionalized story inspired by Case's own experience coming out to his mother as bisexual four years ago.
Podcast: The Heart

The 2015 season of The Heart consists of six stories about couples dealing with their relationship troubles and deciding whether to stay together or to go their separate ways.

Podcast: Homoground

Homoground is an hour-long weekly celebration of queer music and queer musicians. The show has featured over 400 independent singers and bands since its inception in 2011 and includes interviews with up-and-coming queer musicians.
Contacts
| | | |
| --- | --- | --- |
| Edinburgh Napier University Counselling Team | Edinburgh Napier University Disability and Inclusion Team | Breathing Space |
| 9am-5pm Mon-Fri | 9am-5pm Mon-Fri | 6pm-2am Mon-Thurs, 24hrs Fri-Sun |
| 0131 455 2459 | | 0800 83 85 87 |
| | | |
| | | |
Online Support - Togetherall and SilverCloud